Regular price
$18.95
Sale price
$17.50
Unit price
per
Sale
Sold out
Share
The Practice of Traditional Western Herbalism: Basic Doctrine, Energetics, and Classification, by Matthew Wood, published by North Atlantic Books, 2004, 978-1-55643-503-4 (pbk)
The Practice of Traditional Western Herbalism places the function of western herbs in their true western historical context, apart from homeopathy, traditional Chinese medicine, and Ayurveda.  The system of medicine that herbs fit into has all but disappeared. To remedy the situation, herbalist Matthew Wood has researched the old-time practices and reconstructed them for modern use. In resuscitating western herbal medicine and bringing it up to date, he gives his readers a powerful tool for holistic theory and treatment. Wood makes the point that plant medicines, because they are made from a broad range of chemical components, are naturally suited for the treatment of general patterns in the body. He argues against the biomedical model of standardization, in which herbs are refined and advertised as if they were drugs suited to an exact disease or condition.

This text is organized into two main parts.  The first part, the "Energetics," explains how traditional western herbal medicine understood and categorized herbs, their effects upon the body, and a philosophy of medicine, organ systems, and physiognomy that is primarily grounded in 19th and early 20th century herbal-medical practice.  The second part is a classification of medicinal plants into the categories of sedatives, relaxants, nutritive tonics, astringents, alternatives or blood purifiers, and stimulants.  The herbs are categorized and elaborated as to their uses and therapies, affinities, and indications.  -- Evenstar Review.
Matthew Wood is a practicing herbalist and an internationally known teacher on herbalism.  Wood has an MS degree from the Scottish School of Herbal Medicine (accredited by the University of Wales) and is a registered herbalist in the American Herbalist Guild. He began practice in 1981 at Present Moment Herbs in south Minneapolis and is the author of eight books on herbal medicine, including The Book of Herbal Wisdom, The Practice of Traditional Western Herbalism, and The Earthwise Herbal.  He is the founder and director now of the Matthew Wood Institute of Herbalism. For more information, please visit https://www.matthewwoodinstituteofherbalism.com/.
North Atlantic Books is the publishing division of the Society for the Study of Native Arts and Sciences which is an educational nonprofit based in Berkeley, California, that collaborates with partners to develop cross-cultural perspectives, nurture holistic views of art, science, the humanities, and healing, and seed personal and global transformation by publishing work on the relationship among body, spirit, and nature.
View full details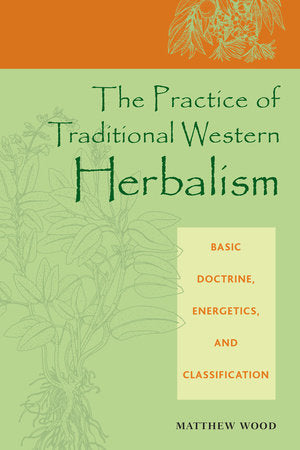 Product Details
EAN: 9781556435034
Published: May 2004
Pages: 300
Size: 9x6
The cover of this issue feels a little gummy....